We don't typically wade into these waters, but we've come across some interesting information that we thought we'd share.  A member of the TalkBass forum (bongomania) has spent a great deal of time testing cables, and we thought we'd summarize his findings here.  His tests corroborate what we have suspected for years – that the outlandish claims that cables drastically affect tone are pure fiction.
There's a great deal of money being made in the premium audio cable market.  Monster, Mogami, Evidence, etc., etc., etc… these companies make millions of dollars selling what they claim to be a "sonically superior" cable.  But are you really getting what you pay for?
First of all, let's face facts: a cable is a passive component.  It simply CANNOT add anything to your tone, period.  Any company that is advertising that their cable increases bass response, clarity, or anything else is flat out distorting the truth.  A cable can only reduce signal, and the only factor that comes into play when this happens is a cable's capacitance.  Capacitance is, quite simply, the ability of a body to hold an electrical charge.  Typically you wouldn't want a cable with high capacitance – it will store some of the current your instrument puts out, which will reduce the high end somewhat.  Cables that claim to increase bass response are actually reducing treble response, to fool your ears into thinking you have more bass.  This is similar to the effect you get when you turn your tone pot down – the guitar sounds more bassy simply by removing highs.  Your guitar's tone pot has a specific component which stores charge, which has a rather high level of capacitance, but even the cheapest guitar cable has a relatively low capacitance, which doesn't affect your guitar's tone in any significant way.
Now here's the interesting part: all these expensive cables sound exactly the same as their cheaper counterparts.  Here's a graph spectrum representing the tonal characteristics of three different 15′ cables (Elixir ($60), Fender Premium Gold ($50), and Canare ($30)):

These tests were done with a constant pink noise signal.  Three different colors were used, one for each cable – pink, green, and blue.  As you can see, there is absolutely no audible difference between any of the cables.
Here's another, showing the results of four 20′ cables (Musician's Gear ($9), Analysis Plus ($159), Horizon, ($11), Evidence ($155):

Once again, the frequency analysis reveals that a $160 cable doesn't sound any different than a $9 cable.  Interestingly, the impedence (the measure of resistance to the flow of electrical current) on each of these cables was significantly different – 1 ohm on the Musician's Gear, down to .2 ohms on the Analysis Plus.  Yet they still sound exactly the same, proving once again that they only factor that can change the inherent tone of a cable is an extremely high degree of capacitance.
This proves true even when it's not just pink noise being fed through the cable.  In this test, a P-bass pickup (which is called a coil by Electrical Engineers) was run in series with the pink noise.  The frequency response curve is changed, but the response from cable to cable is exactly the same (Analysis Plus Bass Oval ($155), Elixir Premium ($70), Evidence Audio Lyric HG ($159), Horizon standard ($11), Lava Magma ($25), Monster Bass ($50), Musician's Gear standard ($9), Planet Waves Cable, Station, ($23)):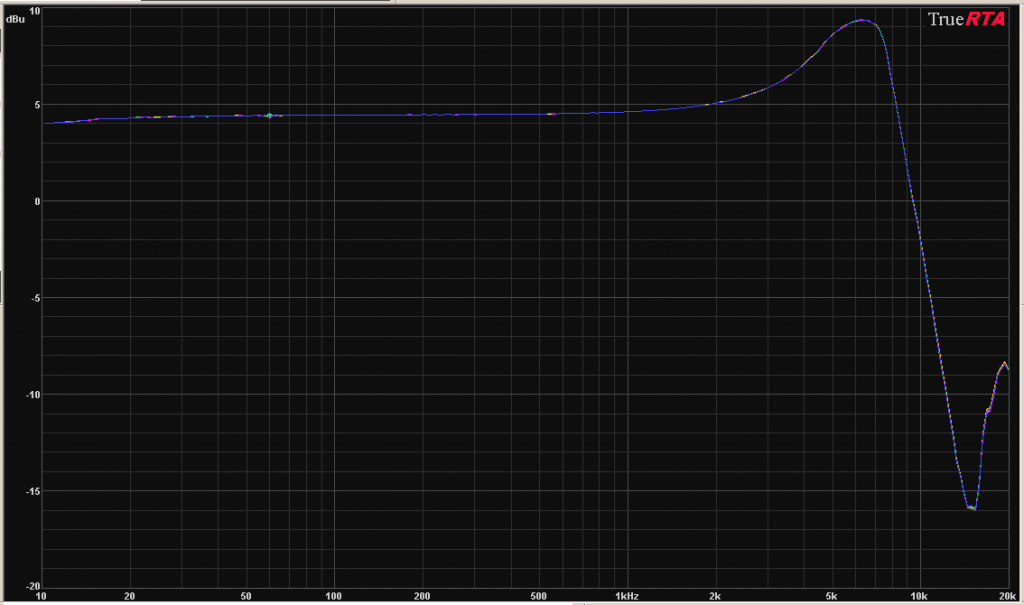 Of course, in spite of the evidence, some will still say they can hear a difference, and we're not refuting that.  What people THINK they hear is completely subjective – but that doesn't mean what they're hearing is accurate.  The human brain is a tricky thing, and it will hear what it expects to hear, regardless of the facts.  The power of suggestion is well documented, and when somebody swears they can hear a difference, well… you can see the power of advertising at work.
There's a few other claims made by certain cable companies other than sonic differences that simply defy all logic (and the laws of physics, as well).  Some say they have "time correct windings" – claiming that treble frequencies travel on the outside of the cable, and bass travels in the center.  This is pure hogwash: first of all, sound is not traveling down the cable, electrical current is, and is therefore not bound by the physics of audio waveforms.  Second: electrons travel at the speed of light – you really think that having "time correct windings" is going to matter when the current is traveling at the speed of light down a 15′ guitar cable?  Also, gold connectors do NOT transmit electrical current any better than your standard metals used – all it does is resist corrosion.  When sifting through the pseudo-scientific jargon, consider the source, and take everything you hear with a grain of salt.
Now, if you're in the market for a cable, don't buy into the sonic hype or any other techno-babble nonsense – buy a cable for reasons of build quality, durability, and warranty if such things matter to you.