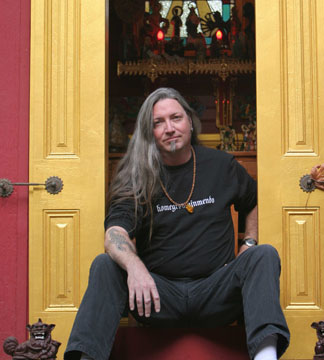 SF Guitarworks is proud to announce the addition of Phil Milner to our team.  Phil will be offering expert repair and maintenance on guitar and bass amps (both tube and solid state), speaker cabs and effects pedals as well as all manner of mods and custom wiring.
Phil has been serving the San Francisco musical community since 1991 and is an actual, honest-to-god, Navy-trained Certified Electronics Technician with over 25 years troubleshooting experience on the bench, in the studio, and on the road. Notable past clients include: Bob Weir & Rob Wasserman (Grateful Dead, Ratdog), Bonnie Raitt, Tracy Chapman, Primus, Sonic Youth, and The Donnas, to name a few.
In addition to timely repair, Phil will be providing a wealth of knowledge and advice on getting your best tone. From cables to pedals to proper amp settings and how it all goes together to optimize your signal chain, Phil will give you the hook-up.
We are confident that Phil will provide the same level of exceptional customer service, repair skill, and timely delivery that you have come to expect from SF Guitarworks.  Phil has been a friend of the shop for a long time, and we know he's an absolute pro.  We're glad to have him come on board.
You can drop off your electronics project here at the shop anytime – Phil will pick up and drop off repairs on Tuesdays.  If you'd like to talk with Phil when you drop off, he'll be in the shop on Thursdays from 2-5pm.
Got questions?  Give us a call or shoot us an email.