Yesterday, our pal Scott from the band
Kowloon Walled City
brought in his Les Paul with a peculiar problem: his bone nut slots were far too low, apparently being cut down by his strings.  We could have just shimmed the existing nut and cut the slots to their proper depth, but since it seemed that the original bone nut was too soft, Scott opted for a new nut.  After discussing his options, he settled on a brass nut.
Brass nuts were all the rage back in the '70's, but it's rare to see one these days.  They provide a nice bright, bell like tone, are almost completely resistant to wear, and just plain look cool.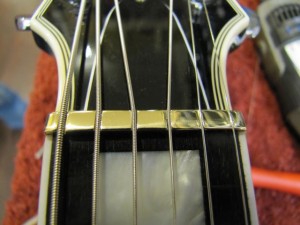 A properly cut nut should allow the string to just *barely* clear the first fret when fretted at the third.  If cut too high, the action will be stiff in the lower positions, and if cut too low the open strings will buzz or make a sitar like-sound.
SF Guitarworks, bringin' the bling.