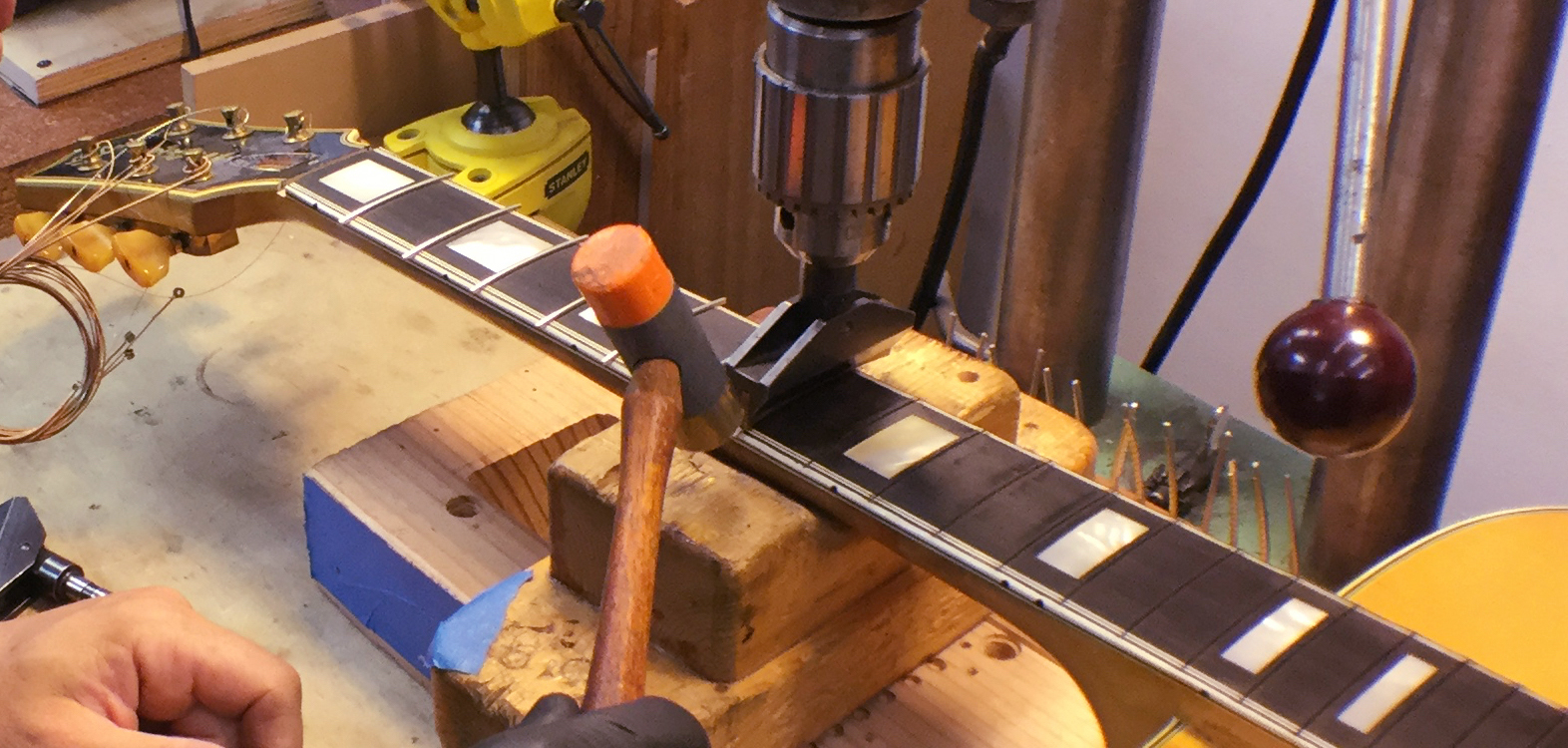 Our Refretting workshop is a three day, fully hands-on, workshop covering all aspects of the guitar refret, including the following:
Q&A/Lecture on the general best practices used in a high quality, professional refret.  We'll discuss the difference in techniques used with various wood types, how to remove frets, how to address finish issues, proper board and slot prep, binding considerations, wire selection and prep, special considerations when using stainless fretwire, fret pressing techniques and tools used, glue types and applications, fret beveling and end treatments and final leveling and polishing.

You will be shown how to remove frets from maple, rosewood and ebony boards, as well as how to address the inevitable chips that will happen along the way.

Proper setup and use of the neck-jig.

Fingerboard radiusing and leveling, including inlay and truss rod concerns.

Fret slot prep

Fret prep, including proper treatment of stainless frets, undercutting fret tangs and smoothing the underside of the crown.

Proper fret pressing and gluing methods.

Trimming and beveling of the fret ends, then proper rounding and smoothing.

You will be shown how to properly set the truss rod to minimize fret removal during the leveling process, and to ensure proper range of neck adjustment.

Leveling and crowning tools, including radius blocks, leveling beams and fret crowning files, will be discussed and demonstrated.

Proper fret crowning and polishing will be discussed and demonstrated.

We finalize the class by going through the entire SF Guitarworks setup process, because your fretwork is only as good as the setup that follows it.

All work will be performed at your own individual station, fully equipped with all needed tools including a Stew-Mac Neck Jig.  These tools and methods used are, without a doubt, the best way to get the most accurate fretwork available to the home tech or small shop.
Not only will you learn how it's been done at SFGW, but you will have a fresh refret that will last you years.
FEE: $1225
Full payment is due at the time of sign-up
REGISTER
For more info and to sign up, stop by or call us at the shop: 415-865-5424.

For more information and our class policies, please read our class FAQS page.