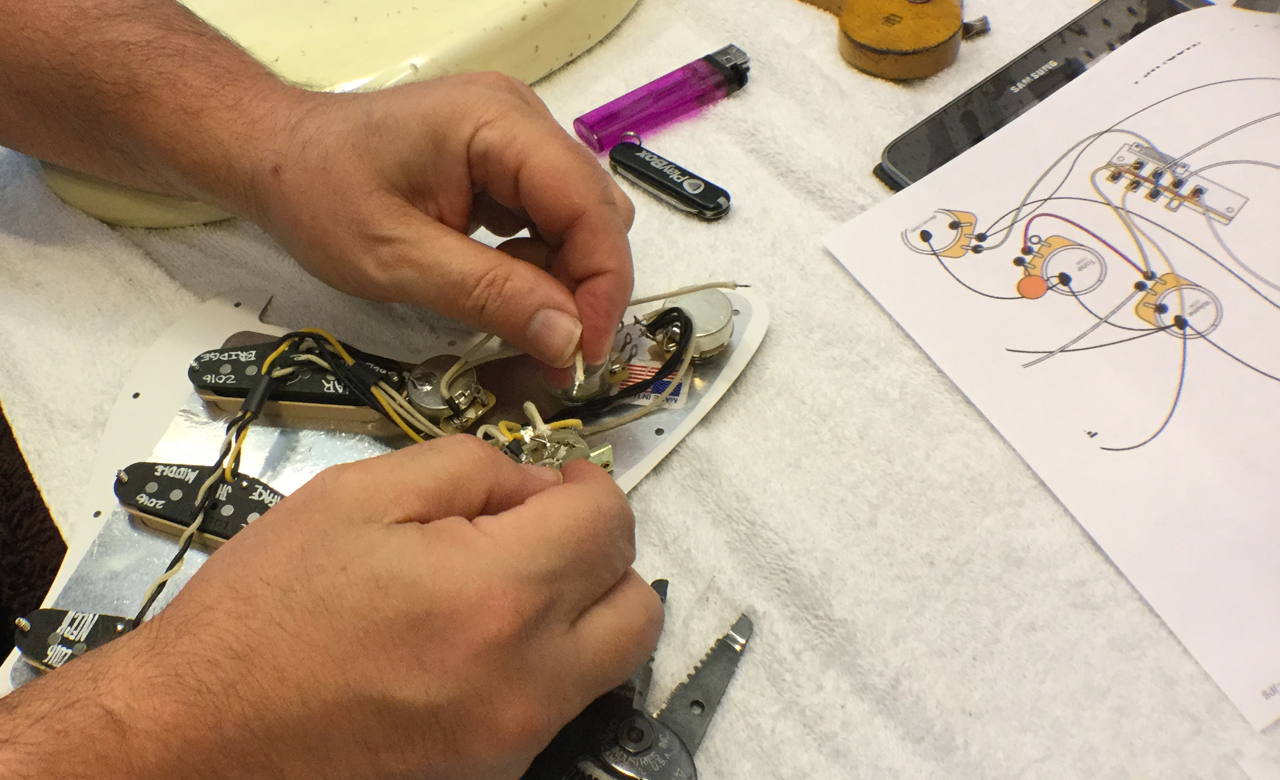 Have you ever wondered what was under the knobs on your guitar?  Why the signal cuts out when you move your cable?  Why it crackles when you turn the volume or tone knobs?  This hands-on workshop will answer all these questions and more.
In our Guitar Electronics Repair & Upgrades class, we will:
Discuss the components in a guitar's electronic circuitry—pots, caps, switching options, pickup types—and how they all work together.

Demonstrate soldering and do a hands on soldering session.
This involves more than just learning to connect a wire to a lug. You'll learn about proper use and cleaning of a soldering station, proper wire dressing, designing a clean layout for your wiring, how to secure leads and how to leave every joint looking like it was done by a pro.

Design and install an electronics upgrade in your own guitar.
Completely rewire your own guitar, or modify an existing circuit. Examples of possibilities—Wiring up a full Stratocaster pickguard, install the "Jimmy Page" mod in your Gibson or add a couple of push/pull pots to your Tele for series and out of phase options.
Before the class, we'll thoroughly discuss your project plans to be sure we have the correct components on hand and enough class time to have your wiring dream become reality.
Each student will have their own fully equipped bench to work on – all tools are provided during the class. Our owner Geoff Luttrell teaches each class. Classes are limited to 4 people, so each student gets plenty of hands-on experience, and as much individual attention as possible.
FEE: $275
Full payment is due at the time of sign-up
REGISTER
For more info and to sign up, stop by or call us at the shop: 415-865-5424.

For more information and our class policies, please read our class FAQS page.