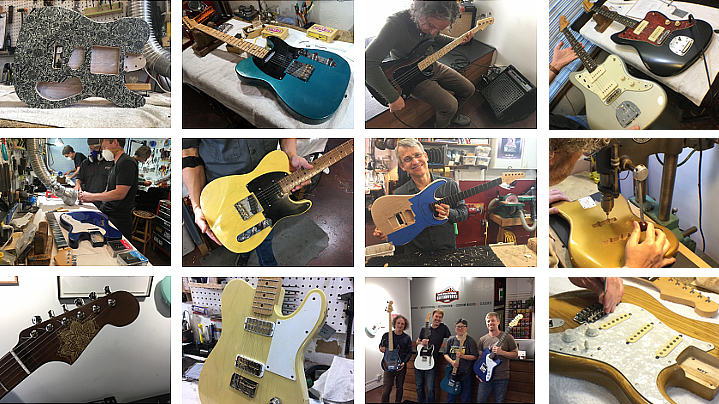 This one-of-a-kind workshop is our most comprehensive to date. It will offer you the opportunity to not only learn the skills of soldering, electronics assembly, guitar assembly and final set-up, but to walk out with an amazing guitar OR bass custom spec'd and built by you.
Here's what the workshop will cover:
Orientation, parts inventory, Q&A

Soldering Demo and hands on practice—Geoff will show you proper soldering and wire finishing techniques, then you can practice on spare parts before assembling and wiring your electronics package

Pickguard/control plate assembly and soldering

Guitar body assembly—install pickups, pickguard, bridge and strap buttons – This is where the guitar starts to take shape. The pickguard and pickups are installed, as are the bridge and strap buttons.

Neck assembly—install tuners and string tree, attach neck to body – Look, a guitar!

Geoff will then take you through the SF Guitarworks Setup Workshop, where you will be shown the entire SF Guitarworks 19 point setup process. From taking initial action measurements, through all adjustments, you'll learn the in's and out's of making your guitar play great.  The scope of adjustment includes using the truss rod to set neck relief, bridge action and radius settings, string height at nut, intonation and pickup height.

Wrap up and rock out
During the workshop, you will use a fully equipped technician's bench, and will have all tools and consumables at hand. These include safety glasses, dust mask, solder, heatshrink and strings.
Three months prior to the workshop, there will be a pre-workshop consultation/ordering session for approximately an hour and half. We'll help you pick the parts down to the electronics package (see below for information on the parts package). Geoff will guide you through the different technical choices you have, and you'll discuss their effect on the sound and playability of the guitar.
PARTS PACKAGES
Body and Parts Kit–We'll be working with MJT Custom Aged Finishes for the body and the parts kit (tuners, string tree, neck plate, control plate, bridge, strap buttons, knobs, switch tip, nut, jack cup, string ferrules). Go to the MJT site  to see options for your body style, color and aging level. (T-style models are VTT, VTL, VTM; S-style model is VTS; we can even do any of their bass styles!)

Neck–The necks will be custom made by Musikraft.  We will help you select your neck woods, neck shape, nut width, fretboard radius and frets.  The neck will be sent to MJT for finishing, and then the frets will be Plek'd by us, insuring that your new guitar will be the best playing one you have, and will fit your hand and style perfectly.

Electronics–We will work with you to determine the best pickups for your playing style and wood choice.  There are numerous options, so you'll be able to nail vintage tone, or you can go for a tailored, signature sound. Pots and switches will be the highest quality CTS and Switchcraft parts, and we like the Vitamin Q caps, but you can pick. Options available in this parts package are single-coil Lindy Fralin, Lollar and Seymour Duncan pickups.
Reunion Blues Aero Gig bag also included.
---
SCHEDULE:
Weekend Workshop: Saturday and  Sunday, 9am—5pm
FEE:
$2750. This includes parts package describe above, instruction, guidance, and use of specific tools and bench.
Full payment is due at the time of sign-up.
REGISTER
For more info and to sign up, stop by or call us at the shop: 415-865-5424.

For more information and our class policies, please read our class FAQS page.

Cancellation Policy: No refunds or reschedules. This is strict, because we would not be able to fill a last minute opening due to the ordering lead time on the parts. If you do have to cancel, the parts are yours and we offer to put the guitar together for you. 
---
Check out photos from our previous classes on Facebook here.