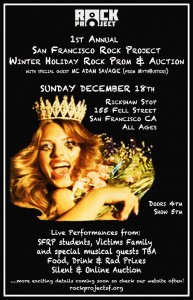 Our friends at San Francisco Rock Project are holding their first annual Winter Holiday Rock Prom & Auction at the Rickshaw Stop in San Francisco on Sunday, December 18th 2011.
Adam Savage of the popular Discovery Channel program MythBusters will be their esteemed MC for the evening and Bay Area jazzcore legends Victims Family will be performing as well as live music by the SFRP students and special musical guests TBA, tasty food, drink, rad prizes and a silent & online Auction. What more could you ask for in a party?
….more exciting details coming soon so check our website often at www.rockprojectsf.org.
This event is their main fundraiser to guarantee continued tuition scholarships for students and to ensure the doors of our school remain open in 2012.
SFRP Scholarship Fundraising Goal = $40,000
Please help keep their doors open next year by sharing their donation request forms with everyone in your network of family, friends and business associates? We really NEED help from everyone in our community! All proceeds from the benefit show and auction will provide tuition scholarships and equipment to support our lessons, rehearsals, season shows, and live performances.