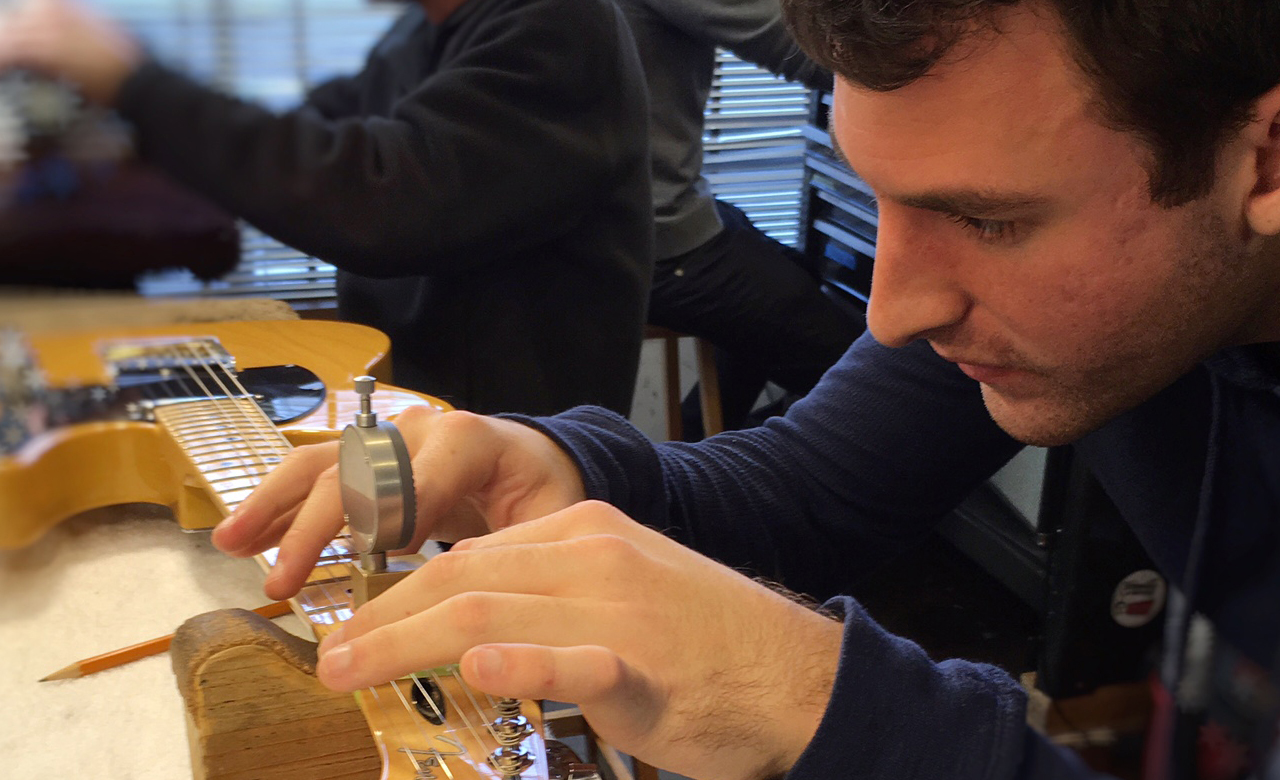 Gain a greater understanding of what your guitar is capable of, how to assess problems, and how to fix them.
We at SF Guitarworks believe that every musician should understand how their instrument works – knowing this will give a greater understanding of what their guitar is capable of, how to assess problems, help them make wiser guitar buying decisions, and not leave them hanging when their guitar goes down at a gig.  In our Setup Workshops, you will learn:
How to assess and diagnose the playability of your guitar
How a truss rod works and how to adjust it properly
What a radius is and how it applies to your instrument
How to set your intonation
What tools are used during a set up and how to use them
And much, much more!
Each student will have their own fully equipped bench to work on – all tools are provided during the class. Our owner Geoff Luttrell teaches each class. Classes are limited to 4 people, so each student gets plenty of hands-on experience, and as much individual attention as possible. NOTE: 12-string guitars and Floyd Rose (and other locking tremolo bridge systems) cannot be used for this class.
FEE: $275
Full payment is due at the time of sign-up
REGISTER: For more info and to sign up, stop by or call us at the shop: 415-865-5424 OR 707-559-3095

REGISTER ONLINE: Select the date on the calendar to find online registration specific to that date.
For more information and our class policies, please read our class FAQS page.

Testimonials:
"The environment felt very open, I didn't feel lame asking beginner questions." – Chris W.
"We learned more things that I could have possibly known." – Matt K.
"I've never really seen what goes through an actual guitar set up. This workshop was a real eye opener." – Edwin G.
More photos of our setup workshop classes are here on Facebook.