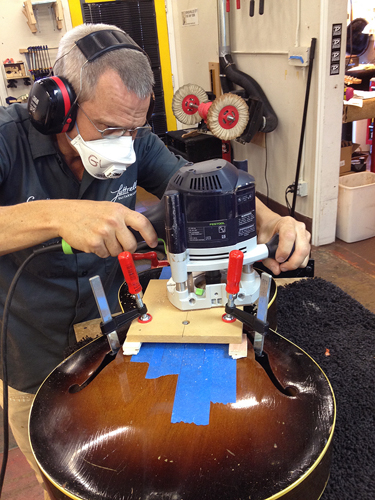 SF Guitarworks is equipped to handle any repair needed, from a simple output jack replacement to a full restoration. Whether your instrument is fresh out of the box or a vintage gem, our goal is to make it into the most incredible guitar you have ever played.
Our shop is stocked with the finest, most up to date tools available, which allow us to work to a tolerance of one ten thousandths of an inch. If we need a tool to complete a job properly, we will get it! All fretwork is done on our PLEK, a computerized fret leveling tool, which enables us to level the frets to a tolerance of .0001″, guaranteeing that your guitar will play perfectly all over the neck. Special electronics needs are always welcome; we can help design and build any custom pickup/switch/pot configuration that you can imagine. All our wiring is done to the highest possible standards – neat, organized, using lead free solder and high quality components.
We love custom work – if you have a vision for your instrument that you have not been able to realize, come in and let us help. From mild to wild, we make it happen.
Feel free to drop by the shop any time for a free assessment. Even if you're currently happy with your instrument, there's a good chance we can make it even better.
If you need your vintage tube amp biased, want to modify a fuzz pedal for true bypass, or need some custom wiring for your pedalboard, SF Guitarworks has you covered. We offer complete electronics service, done in a timely manner, with the same degree of professionalism as our instrument repairs.
In addition to pro repair, we can provide a wealth of knowledge and advice on getting your best tone. From cables to pedals to proper amp settings and how it all goes together to optimize your signal chain, we're happy to help out.

All our work is covered under a lifetime warranty, and is backed by a 100% money-back satisfaction guarantee.
---
We are authorized dealers/have warranty techs on staff for the following companies: