We believe that every musician should understand how their instrument works. Knowing this will give you a greater understanding of what your guitar is capable of, how to assess problems, help you make wiser guitar buying decisions, and even how to get your guitar back up if it goes down at a gig. 
Sign up for one of our Workshops and learn from the pros!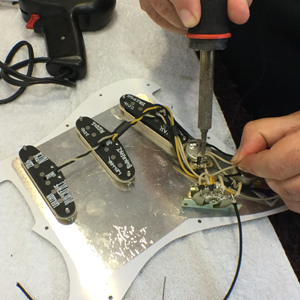 Guitar Electronics Repair & Upgrade Workshop
Learn how and why the electronics components in your guitar effect your tone.
Guitar Setup & Maintenance Workshop
Learn the techniques and tricks to make any guitar play like a million bucks!

Custom Guitar Building Workshop
Have the guitar you've been trying to find, and enjoy the satisfaction of putting it together yourself