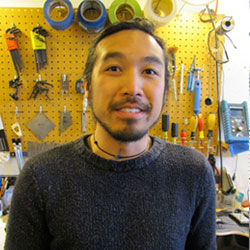 Creativity and mechanics have always had a push/pull relationship in my life. Growing up, I found enjoyment in creating and fixing. There's a fine line between frantic pen strokes and methodical precision, making sure each line is in the perfect place. I wanted to be creative in everything that came into my life and I wanted to expand into the inner workings of those subjects. My dad had a guitar around when I was growing up and I'd sit down and figure out simple melodies. I took a liking to the instrument in my teenage years, and started writing music and performing. When it came to the guitar, I not only wanted to play, but I wanted to learn the art of recording and releasing material, how the gear worked and the repair of the instruments. It's a process to learn when to think creatively and when to think mechanically.
While attending college, I had a job at an Indian restaurant. It was fun work and led me to develop my social interactions. However, one night I remember stepping into my car after a long shift and being frustrated with everything smelling like Indian food. It was then I decided to change my line of vocation. I went to my local guitar retail store in San Jose and picked up a flier for all the local guitar and amp repair shops. I applied and spent the next five years in a local shop honing my guitar repair knowledge. Guitar repair has the challenge of having to think of a creative solution and then trying to execute that in an organized and methodical manner.
After feeling the need for change, I decided to look outwards to spread my wings and learn as much as I can learn. I found SF Guitarworks to be a wealth of fresh ideas and I have found the excitement I was looking for in the city.