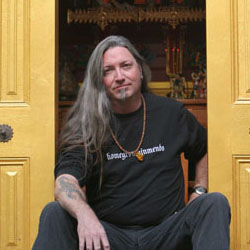 My old man was a DJ and broadcast engineer who was doing his first on-air shift out of a trailer on top of Signal Hill, Long Beach, CA,  the night I was born. I pretty much grew up under mixing boards and transmitters he was building, and as a wee lad I was tearing apart tape decks and radios.  Figuring out how to put them back together was another matter, but seemed to come naturally. I picked up the guitar at a tender age and was earning a living playing (back when that was actually possible) on Maui until my early twenties, when it became time for a major sea change (the pun will be apparent soon).  In order to save myself from a life of debauchery and dissipation it was suggested that I join up with the Navy – which I did.  Due to my native ability with things mechanical and electrical, I was accepted into and excelled in the United States Navy Advanced Electronics Field. I spent two solid years in the most rigorous electronics training program on the planet, followed by four years active duty in The Fleet repairing everything in the Navy inventory.  Needless to say, I know how to troubleshoot – your tax dollars hard at work.
After my hitch was up in '91 I relocated here to the Bay Area. I had been repairing amps as a sideline while stationed those 6 years in San Diego, so it was a no-brainer to hang my shingle here. I had my humble shop in The Haight for a couple of years under the name "E.A.R.S." (Electronic Audio Repair Service), and then ran it out of Lennon Rehearsal Studios for a couple of years. Around early '95 I was hired to go on the road with Tracy Chapman as touring guitar tech, which started a whole new parallel career for me, during which I worked on the road and in the studio for a lot of cool people including Bonnie Raitt, Primus, The Donnas, and others,  culminating with three years as Bob Weir's guitar tech in Ratdog.  Since getting off of that particularly crazy train I have continued to provide tech support to San Francisco's musical community as well as playing, recording and producing records for my partner, Jenny Kerr, as well as a few select artists such as Eric McFadden.
Anyway, they say a man must have a stock in trade, and though my first love is playing guitar I still love fixing amps.  I look forward to assisting you, should the need arise. In addition to the repairs, I have learned a great deal over the years of playing, touring and "tech-ing" on how to get a great tone, choosing and configuring amps, effects, cables, pedal boards, the whole enchilada. Feel free to call or email and pick my brains.
– Phil "Philbillie" Milner
Phil is in the shop to assist you Saturdays 2-5 pm. You can come talk to him personally, or drop your amp off any time during the week.

Check out Phil's website at philbillie.com.