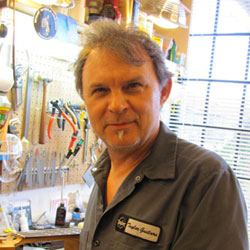 Luthier / Guitar Tech Michael Gardner has been repairing and building string instruments professionally for over three decades. He has a strong knowledge of stringed musical instruments honed over time in shops in California's central valley, with the past decade spent at Skip's Music in Sacramento. From restrings and simple repairs to turning lumber into a guitar, bass, or mandolin he's your guy!
His troubleshooting and electronic skills were learned in the Air Force, and allow him to do this type of work with very high attention to detail. So, for your guitar that has electronics issues, "No Problem Mon!" From troubleshooting "no sound" problems to designing complete custom wiring systems and even pedalboard setups he does it all. Michael also has plenty of experience installing, troubleshooting and gigging with Roland guitar to midi systems and midi switching rigs too.
At the other end of the spectrum Michael has a great deal of experience with vintage acoustic and electric instruments, from maintenance and upkeep to complete restoration of heirloom pieces. Michael has scratch built about 150 electric and acoustic guitars and basses over the years as well.
Not just a repairman/builder, Michael is a bassist and guitarist with gigging experience so he knows when your instrument is playing as it should. You can feel comfortable that your instrument in expert hands with Mike.