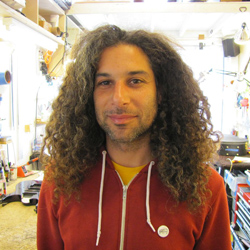 When I was a kid growing up just outside of New York City I was given a skateboard and a guitar. Immediately both had a huge influence on my life. Traveling near and far to skate new places or to play music became a regular thing. Along with this so did fixing my board, my guitar and my vehicle. If you use things they will break. Luckily there was a garage full of tools at my house so I would take things apart all the time and usually put them back together.
Eventually change was needed in my life so moving to San Francisco seemed the logical thing to do. Harsh winters were a thing of the past. Great music, lots of skateboarding and many unexplored west coast miles lay ahead. Since living in the bay I've toured thousands of miles, released a few records, worked for a couple of startups, been a book keeper for some small businesses and was even a floral designer. This all prepared me for jobs where I am to wear many hats. You might say I am a "Jake of all trades".
I met Geoff during the early days of his business when I needed a repair I could not handle myself. Since then SF Guitarworks has been my go to spot for repairs and answers to questions. Now working here my knowledge of small business and guitar repair are growing on a daily basis.  Everyday there is an interesting new challenge.
- Jake Palladino
Jake performs with Hightower and Pins of Light.